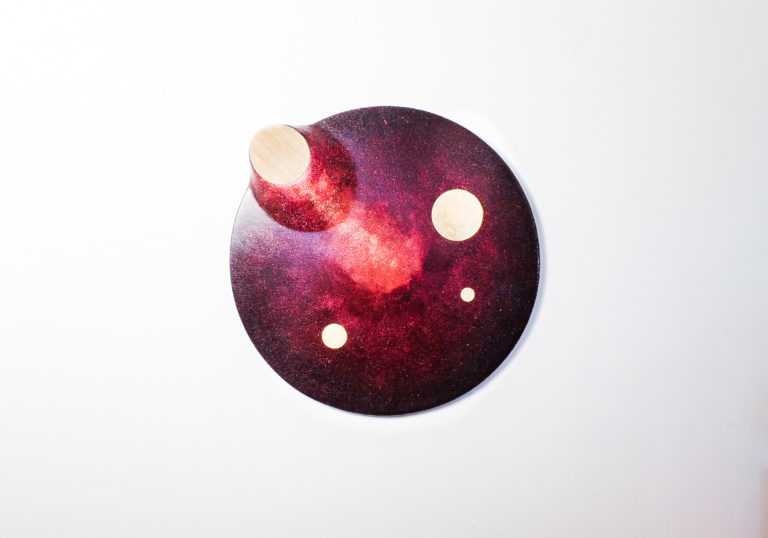 La sculpture murale Wild, puissance de l'esprit libre, marque un nouveau positionnement narratif. Une approche plus personnelle et affirmée, une puissance visuelle renforcée par une évolution de la finition signature de l'artiste.
Wild est l'image d'un esprit libre fuyant une société du paraître et centrée sur elle-même.
Cette dernière est représentée par la forme circulaire de la sculpture, illustrant les notions de cycles et d'inertie.
Trois entités, dorées à la feuille de cuivre, renvoient à la notion de paraître d'individualités superficielles.
Cette image est renforcée par le travail de la dorure (finition de surface) et l'utilisation de la feuille de cuivre (en étant ici une imitation de la feuille d'or). Ils se retrouvent engloutis, comme prisonniers de la société, gravitant tous autour du même centre.
L'esprit libre, symbolisé par une pièce en chêne brut, vient s'extirper de cet ensemble. Il crée une rupture du cercle, s'élevant au dessus du reste de la sculpture, venant ainsi s'affirmer par la puissance de sa volonté. La force visuelle est renforcée par le travail des teintes de la finition signature, laissant une traînée, une explosion sur son passage.
Caractéristiques & dimensions
Chêne naturel, Contreplaqué, Feuilles de cuivre
Finition signature : 12 nuances, résinée, vernis texturé au pinceau
Diamètre : 90cm, Longueur max : 100cm
The wall sculpture Wild, puissance de l'esprit libre (power of the free spirit), marks a new narrative positioning.
A more personal and assertive approach, a visual power enhanced by an evolution of the artist signature finish.
Wild is the image of a free spirit fleeing from a seemingly self-centered society.
The latter is represented by the circular shape of the sculpture, illustrating the notions of cycles and inertia.
Three entities, gilded with copper leaf, refer to the notion of appearing superficial individualities.
This image is reinforced by the work of gilding (surface finishing) and the use of copper leaf (here being an imitation of the gold leaf). They find themselves engulfed as prisoners of society, all gravitating around the same center.
The free spirit, symbolized by a piece of raw oak, comes out of this set. It creates a rupture of the circle, rising above the rest of the sculpture, thus asserting itself by the power of its will. The visual force is reinforced by the work of the shades of the signature finish, leaving a trail, a explosion in its path.
Natural Oak, Plywood, Copper leafs
Signature finish : 12 shades, resined, textured varnish by brush
Diameter : 35 7/16 in, Max lengh : 39 3/8 in